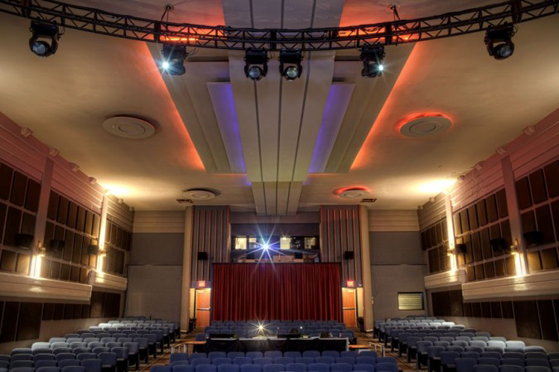 The Royal Theatre
Phone:
(416) 466-4400
Email:
info@theatred.com
Royal Theatre Facility
4K Christie Digital Projection
3D Projection with RealD System
Colour Correction/Grading in the theatre
All common projection formats including DCP, HDCAM SR, and 35mm
Dolby-approved 7.1 Mixing Facility with Avid ICON D-Control
Live Events – Retractable Screen for Stage, Lighting Grid
2D/3D Video Shoot, Audio Recording, Streaming, Broadcast Capabilities
4 picture editing suites with direct-to-theatre screening capabilities
400 seat venue
Address:
608 College St.
Toronto, Ontario
M6G 1B4
---
By taking an historic Art Deco movie house and adding the latest in digital technology, Theatre D Digital has created a state-of-the-art facility for post production, exhibition and live events.
The Royal Cinema is the largest mixing, colour, and screening facilities in Toronto. The infrastructure provides filmmakers with an unprecedented opportunity to edit, mix, colour, and screen in a real movie theatre. Theatre D Digital consults with top industry professionals to create a world class multimedia centre.
The design and infrastructure of Theatre D continues to meet the highest standards of the international film industry.
The Royal Cinema also offers unique opportunities for concerts and multimedia events.
It is a 400-seat venue with a stage and lighting grid that can handle 3D shoots, and live-to-air broadcast capabilities.
We are proud to combine our digital audio, mixing, projection, colour timing and grading capabilities with these historic venues. A "must be seen to be believed" experience.
Recently, Theatre D Digital has expanded with two new television mixing theatres. These innovative state-of-the-art rooms reside within Creative Post; one of Toronto's foremost post production facilities in downtown Toronto.
---